Get a Free Quote
Asbestos can cause very serious problems when it comes to the health and safety of your family.
Trust us to remove all of the harmful material from your home or business.
Click here to get a free quote

Experience
You can count on.
Learn more about us
We are Here to Help
Give us a call today to schedule an appointment. We will come to your home or business and
provide you with a free consultation and a quote on the work necessary
Contact us to schedule an appointment
WELCOME TO
Serving Ogden, UT and Everywhere Around
Asbestos Testing, Inspections, And Removal Services In Odgen, UT
Abatement Services of Ogden is the best choice for quality asbestos abatement services for Ogden and the surrounding areas. From asbestos testing to asbestos removal our team is certified and licensed to complete all asbestos services. We provide our asbestos abatement services to both residential and commercial properties in the area. For a free estimate give us a call today!
Not sure if your home has materials containing asbestos?
Abatement Services of Ogden is a full-services asbestos abatement company located in Ogden. Our team of asbestos removal experts provides the area with a wide-range of services.
Below are just some of the great asbestos services we offer:
Residential and Commercial Asbestos Services
Asbestos Testing for Building Demolition
State Licensed and Certified

Insured to Protect You and Your Property
Above are just some of our services. For more information give us a call.
We provide excellent services at a reasonable price!
Asbestos Removal
Asbestos removal can be a scary and stressful time. Luckily for Ogden, you have Abatement Services of Ogden. Our team is fully certified and insured to provide you with the best in asbestos servicing. Asbestos removal is a delicate process that should be handled by professionals. Asbestos is a highly dangerous fiber that can cause severe illnesses such as cancer and even death. Before you try to remove asbestos yourself, give us a call. We will ensure that all the asbestos is removed from your home or business and that the disposal is handled in a safe manner!
Our Asbestos Certification
Click to view a larger image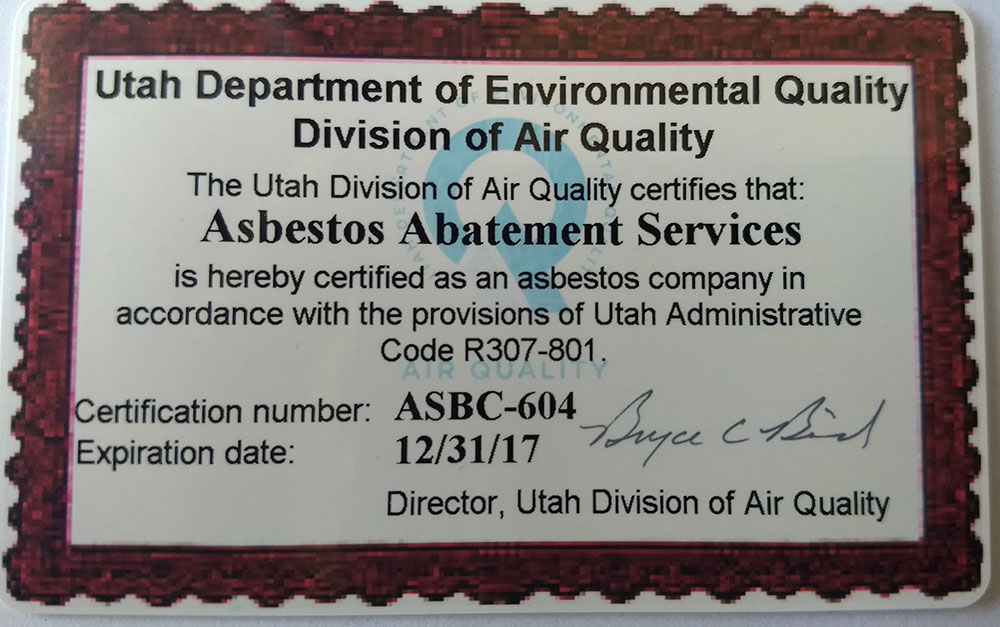 Our Recent Posts
Click on the post to learn more
Abatement Services of Ogden
When it comes to asbestos, there is a lot of information that people do not know. Utah County Asbestos Abatement [...]